BTS's V goes viral as the 'White Suit, Green Mic Guy' and the 'Guy Who Winked' after Grammys performance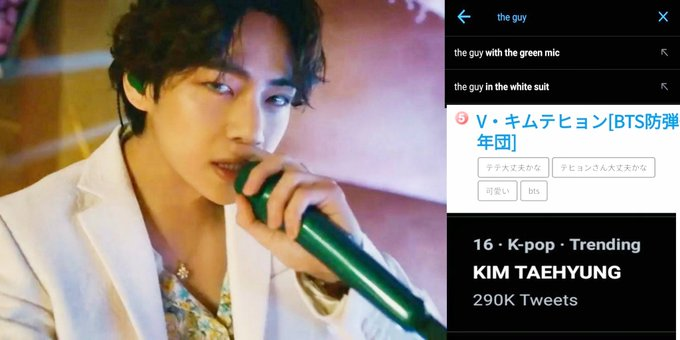 Grammy nominated artists, BTS, performed their megahit, Dynamite, at the 63rd Grammys today. The performance was the star attraction of the award ceremony as the whole world was glued to the screens to witness this moment that will go down in history books.
While the performance was absolutely perfect, BTS member V stole the show and went viral once again. Dubbed as the 'Stan Attractor of BTS', V's charms helped double the fandom size once again!
Soon after the performance was over, general public and non-fans were seen inquiring about the 'White suit, Green mic guy' and 'The guy who winked'.
V looked dashing, wearing an extravagant white suit as he sang melodiously holding his signature green mic. While two BTS members wore white suits, people were seen specifically asking for 'green mic guy' and confirming that it was V who caught their eye.
He was also the only BTS member who winked. Netizens were so hooked, that they were seen writing detailed descriptions of him just to find out his name.



Many appreciated V's honey vocals and his godly visuals. His wink was also a much talked about topic. V is a great singer, excellent dancer and probably the best performer in all of Korea. Thanks to this perfect amalgamation of abilities, he is known as the 'God of Stage Presence'. Even though he doesn't get much screen time, he always has the most impact.
V's name 'Kim Taehyung' and 'Taetae' were also trending topics on Twitter. He was also the highest trending BTS member on Twipple Japan.


BTS V the handsome frontman of BTS never fails to charm the audience with his godly visuals and charming stage presence